Legionnaires' patients in UAB Hospital outbreak retain lawyer
Posted on January 09, 2018 | Source: Mike Oliver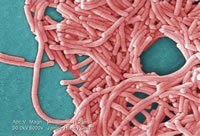 Three of the nine confirmed Legionella patients linked to a cancer unit at UAB Hospital have retained a Birmingham lawyer with experience in litigation involving the deadly bacteria.
Todd Wheeles, of the law firm Morris, Haynes, Hornsby Wheeles, and Knowles, told AL.com he has been retained by two patients and the family of one of the patients who died.
The families, for now, have asked not to be identified, he said.
"Legionella outbreaks should be considered public health emergencies, especially, when the source is an institutional water system," Wheeles said in a prepared statement.
Wheeles is also currently representing four of the 15 Legionella cases from an outbreak last year at a nursing home in Florence. One person died in that outbreak. That legal case is ongoing.
Wheeles has not filed legal action in the UAB outbreak.
UAB Hospital reported publicly last week that they had a cluster of Legionella bacteria infections. UAB and health officials have linked it to the water supply, which has been treated with hot water and chlorine flushes.
The state said UAB did not report its confirmation of a cluster of Legionnaires' cases within the 24-hour period they were supposed to, but said the hospital did correctly begin eradication procedures. The state reported the outbreak to public health officials May 19 but knew of it May 7, UAB and health officials have said. UAB has declined to release the dates of the two deaths.
The Legionella bacteria, which is contracted by inhaling infected water vapor, leads to a severe type of pneumonia mostly in patients with compromised immune systems. The illness is sometimes called Legionnaires' disease due to its being discovered at an American Legion convention in Philadelphia in 1976.
UAB was made aware of Wheeles' statement and said it could not comment on pending litigation.